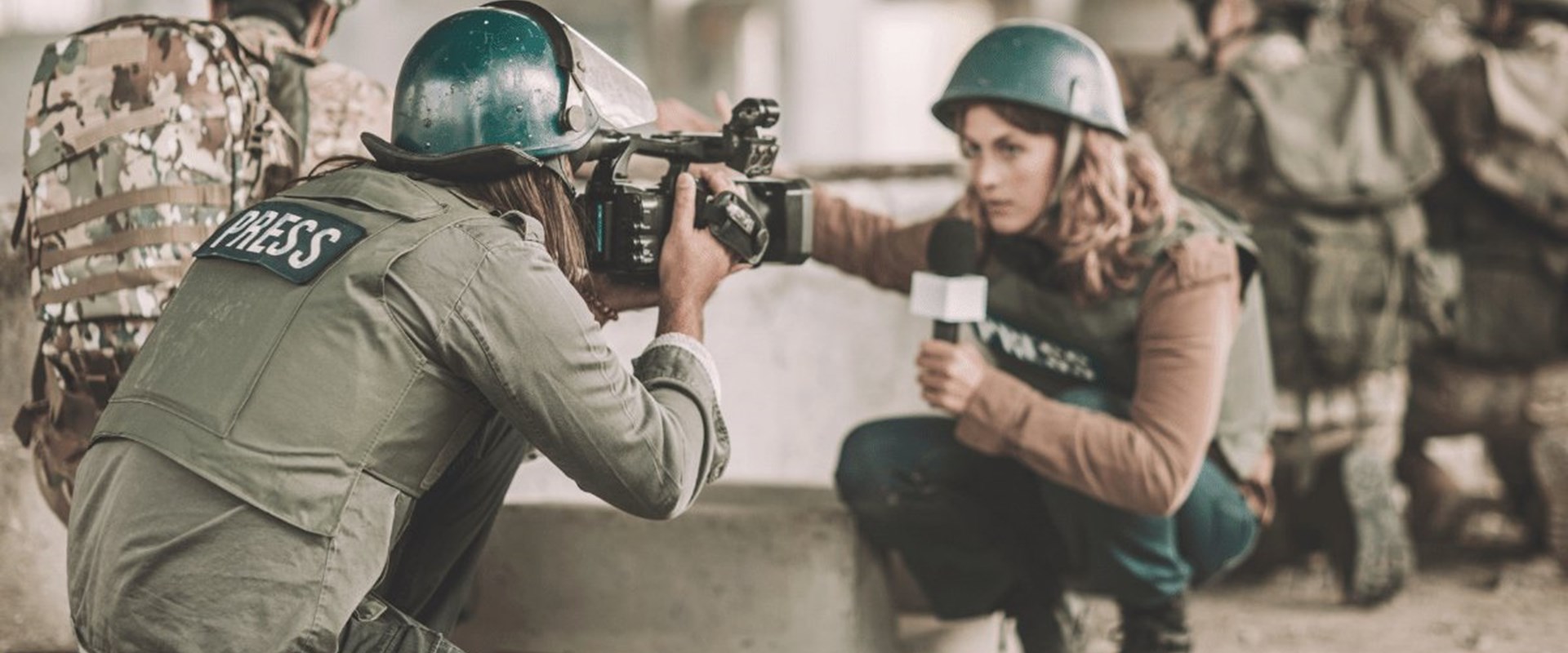 During times of conflict and war, it is critical to have journalists and media outlets from around the world on location to keep the rest of us informed. But, for the journalists who travel to these dangerous locations, there are many risks: assaults, assassinations, disappearances, shrapnel hits, and more. There are safe zones from which journalists can report, but safety is not guaranteed.
War is a complex puzzle, and the journalist's job is to find as many pieces as possible to help others understand it. For many in the field, war journalism is especially important to ensure that crimes and injustices do not go unpunished. Some even dare to enter the conflict zone to get the story from as close to the front lines as possible. Journalists put their lives in danger to bear witness to the conflict and provide vital information about the reality of war.
In these situations, news happens fast, and accidents and fatalities can occur just as suddenly. With these high-stake risks, media groups and international agencies are increasingly focused on safety, and issue warnings to remind all parties in conflicts that journalists are civilians, not military targets. Still, in the current accelerated pace of war and conflict, there have been too many accounts of journalists being killed or wounded.
Since the start of the Russian offensive in Ukraine, Reporters Without Borders (RSF) has documented attacks directly targeting journalists wearing a "Press" armband and has seen more and more killed or injured in the course of their work. According to RSF, at the time of this writing, eight reporters have been killed and 12 have been injured by gunfire.
Following the attacks on journalists in Ukrainian territory and learning from what has happened in other territories such as Syria, Iraq, and Afghanistan, organizations like UNESCO, the International Press Institute, and RSF have launched campaigns for the protection of journalists stating that attacks targeting them in a conflict zone are equivalent to a war crime.
Insurance Coverage for Journalists
With these journalists, reporters, and other media workers risking their lives to cover these stories, who is covering them? As a war-time journalist, making sure you have coverage in case you are injured, become ill, or need medical or political evacuation is vital, but getting insurance when traveling to these high-risk locations is a challenge.
With that in mind, Tuman Global Solutions partnered with Hotspot Cover to offer travel medical insurance designed specifically for journalists and other individuals and groups traveling to and from high-risk locations worldwide. Hotspot Cover picks up where other insurance plans stop, providing coverage for accidental injury and disability, passive war, and terrorism to those in hostile territories. Crisis Response, including Political and Natural Disaster Evacuation and Kidnap and Ransom cover, can also be added as optional coverage
Learn more about Hotspot Cover and get a quote to make sure you are covered no matter where your next story takes you.